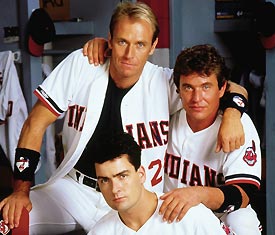 RINGER
Still on the fence about you. While having Logan Echolls and Buffy in the same show is kind of geek nirvana, I don't understand why is character is in the show. The whole daughter-hot-for-teach sub-plot has nothing to do with the core plot of the show and just makes it seem more like the soap-opera I fear that it will become (and that I have no interest in).
GRIMM
Bees? Really? Yes there is a Grimm fairy tale about bees, but I had to look it up. They wrote over 200 fairy tales and most of them are not in the popular consciousness. Still, the interplay between our hero and the werewolf is great. Everything else, not so much. And the girlfriend seems pointless.
ONCE UPON A TIME
I like you. I'd like you more if you kept that annoying little kid from ever speaking. EVER. And unless you're going to wrap this story up in one season or two, he's going to get awkwardly pubescent real fast. Have you thought through him as a teenager following Emma around? That's going to be disturbingly Oedipal.
NEW GIRL
The thing I like most about this show is that it's not afraid to linger on something until it becomes funny. It doesn't force a joke to be funny and then move on right away to the next one. It's refreshing.
PSYCH
How can you have an entire episode of
Psych
dedicated to baseball and not have one single
Major League
reference? Did the writers forget that Corbin Bernsen was in that movie? I mean, you gave Danny Glover a
Lethal Weapon
reference for crissakes and had a whole play on the belief monologue from
Bull Durham
. Oh, the missed opportunity! I thought you were better than that
Psych
.